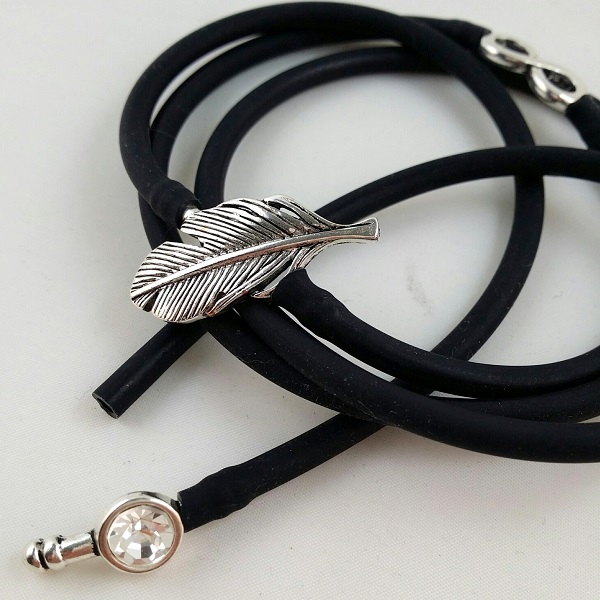 Create Jewelry with SoftGLAS Cording and Joiner Charms
I'm quite exited about these new arrivals. The SoftGLAS has always been a huge hit but the joiner charms haven't been available for quite some time.
Now they are back and better than ever. This hollow cording feels so silky and soft.
The SoftGLAS comes in Black and Clear Frost and now it comes in 2 thicknesses. 2.5mm as always and also 4.5mm. Of course you can use any appropriate sized end caps to create jewelry with the SoftGLAS tubing but why do that when you can use the new joiner charms?
The joiner charms are a great quality silver tone metal and come in various themed sets.  Cut the tubing to the desired lengths and insert the joiner charms.  Use just one joiner charm to finish the piece or use several to make a statement.
If silver isn't your favourite, you can always change it with Gilder's paste or Alcohol Inks.
Because the SoftGLAS is hollow, you can run wire through it to shape it.
I've made a simple "Boho" style bracelet that can also double as a 2 layer necklace.
See how easy it is to do here.
I'm going to try to find the time to make some polymer clay beads to add to my bracelet next….maybe a few dangly charms too….ohhhhhh, so many ideas!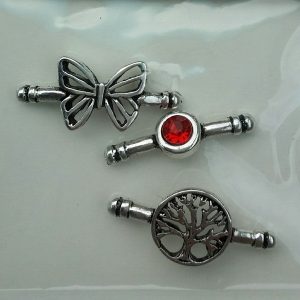 If you are a member of the Polymer Clay Adventure and you watched my class then you have seen my trick for changing the Clear Frost SoftGLAS into whatever colors you desire. (I'll be able to share the secret with you after the Adventure is over).