Reviews (0)
Description
Description
Liquid polymer clay is a versatile product that can be used in Sculpey Tools™ Silicone Oven-Safe Molds , to embellish clay, used as grout, image transfers, window clings and so much more! So simple to use it is perfect for beginners!
Twist cap for precise flow control – open completely to fill mold. Open half way for other detail work.
Gently stir before using.
Strong and flexible after baking making it perfect for home décor, jewelry, scrapbooking and beyond.
To color – mix with alcohol-based inks
To thin – add Sculpey® Clay Softener until desired consistency is reached.
To thicken – pour into a cup and let sit out overnight
Add items such as glitter, spices, dried flowers and metal pieces to add interest to your creations before baking!
Excellent leveling properties which allow it to be baked in sheets and poured into jewelry findings.
2 fl oz. (59mL)
What Is Liquid Polymer Clay Used For?
Liquid Polymer clay has a variety of uses which makes it an ideal crafting medium!
– To soften crumbly clay.
– To seal your beads.
– With pigments to make a faux ceramic and other unique faux effects.
– To make your own patterned sheets to put into bezels.
– As a bakeable glue to enhance the bond between clay pieces.
– As a drizzle for polymer clay food miniatures.
– As a fixative for surface effects.
– As a clearcoat or coating in the place of a varnish.
– To create multi-layered effects — the translucents work great for this!
– Window and mirror clings
– In molds to create jewelry and home decor pieces
– To transfer photos on clay and other objects, glazing polymer clay creations or combining your own shades of liquid clays
How to Use Thinner and Clay Softener With Liquid Sculpey®
Sculpey® has a thinner and clay softener that you can use with Liquid Sculpey® to thin out the liquids if they are too thick for your project.
Just a few drops of Sculpey® Liquid Clay Softener quickly turns any batch of polymer clay into clay that's smooth, soft and easy to shape and knead.
Add a Little Wonder With Liquid Polymer Clay
To achieve specific effects, you can tint polymer clay with various pigments and paints, as well as mix it with:
– Metal leaf or flakes.
– Tinsel.
– Mica powders.
– Sequins.
– Sand.
– Dry flowers.
– Glitters.
– Spices.
More Info
Returns & Delivery
We are proud to represent vendors of quality tools and supplies. Occasionally there may be a defective item and should this happen we will gladly issue a replacement or refund. Other items may also be returned if they are unused and in their original packaging and may be subject to a restocking charge. Please contact us with any questions and before returning merchandise.
Related Products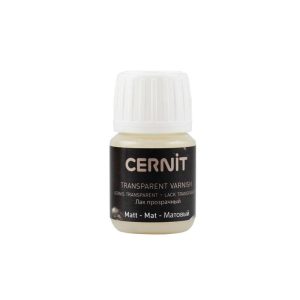 Quick View
Cernit Varnish-Glossy Finish Small 30 ml
It is completely transparent after drying and very resistant to scratches. The varnish is also water resistant. 
The gloss varnish has the advantage of adding a clear, gloss appearance of your Cernit number one while protecting your creation. It will protect the surface from damage. For your Cernit polymer clay creations, use the appropriate varnish from the same brand! This water-based varnish must go through the firing to be able to preserve your jewelry, figurines or various creations from knocks and scratches.
Unlike some of its competitors, Cernit varnish has an impeccable finish and does not bubble! For more info see below.
Available in a large 250 ml here.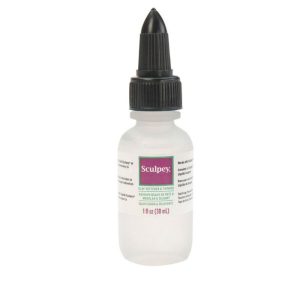 Quick View
Sculpey® Clay Softener- Liquid
If you find yourself with material that's too stiff and you're wondering how to soften clay, you've come to the right place. Sculpey® Liquid Clay Softener can be used for all types of polymer clay.  See our solid clay softener here.
You can turn a batch of dry or firm material into clay that's soft, smooth and easy to knead, shape and manipulate. Just a few drops will make all the difference. Here's what our clay softener has to offer:
Sculpey® Liquid Clay Softener improves the texture of dry, crumbly clay, creating the perfect consistency.
Add a few drops of this polymer clay softener into firm clay and thoroughly knead into the clay to make it soft and subtle.
Also works great to thin out Liquid Sculpey® if it gets too thick.
Twist cap for precise flow control!
1 fl oz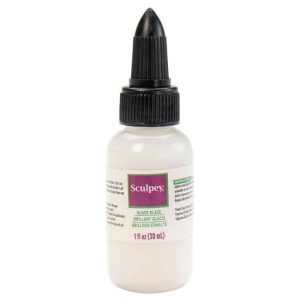 Quick View
Sculpey Glaze 1oz (Glossy)
Add a durable seal or finish to baked polymer clay items with this compatible acrylic water-based finish.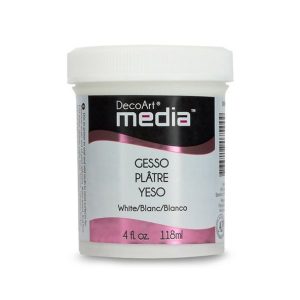 Quick View
DecoArt Gesso 4 fl oz
DecoArt Gesso now available. Highly pigmented for superior, one-coat coverage. Use as a primer to seal and add tooth to most surfaces for maximum paint adhesion. Build texture by applying the gesso with a palette knife or by carving into it while still wet. Available in White.
Use on our natural wood coasters here and here.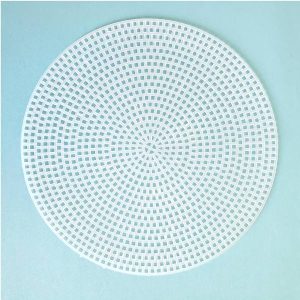 Quick View
Circular Grid Texture 5.75" 1pc
Sculpey® Texture Sheet - Nature
Quickly and easily add pattern to any of your polymer clay projects. Flexible, transparent material.
1 flexible, reusable texture sheet (plastic canvas)
Size 5.75"
Grid pattern in a circular shape made of tiny squares. Lots of possibilities. Perfect for Mokume Gane and jewelry.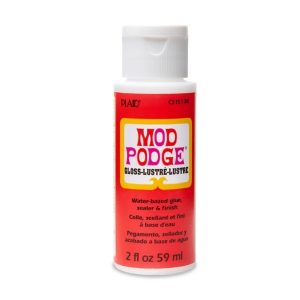 Quick View
Mod Podge Gloss 2oz
Mod Podge is an all-in-one glue, sealer, & finish of choice for decoupage & everyday crafting. Decoupage is the art of cut-and-paste, used with paper or fabric cut-outs to decorate virtually any surface. It's ideal for Home Decor. Gift, Upcycling, Kids' Crafts, Mixed Media.  By Plaid.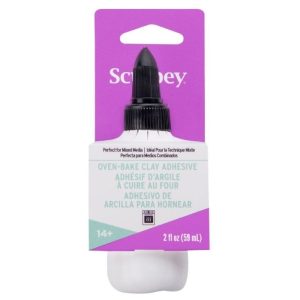 Quick View
Oven-Bake Clay Adhesive 2oz (formerly Sculpey® Bake & Bond)
Are you looking for the best glue for polymer clay? Sculpey® Bake & Bond will deliver the strength and stick you need. This bakeable adhesive forms an incredibly strong bond between two pieces of polymer clay. Here's what's so special about it:
Sculpey® Bake & Bond will adhere raw clay to raw clay; raw clay to baked clay and baked clay to baked clay.
It also can be used to adhere clay to porous materials.
Polymer Clay pieces can be joined together with little pressure to prevent distortion of shapes and fine details.
Twist cap for precise flow control!
2 fl oz
How to Use Sculpey® Bake & Bond
So how can you use this clay adhesive to make sure your pieces attach perfectly for finished projects that make you proud? It's simple. Join your pieces and adhere items by applying Sculpey® Bake & Bond on the areas you need to bind together. This can mean joining joints or body parts in figurines, attaching sculptures to bases, clay additions to household objects and charms to key chains or magnets.
You can apply the glue to raw clay pieces and bake them together to secure the bond, or you can add it to already baked items to make sure they stick for the final outcome. Sculpey® Bake & Bond even works when attaching raw clay to baked clay — it's that versatile and effective. And there's no need to apply too much pressure to the pieces to make sure they stay, potentially warping unbaked shapes or details. This glue is strong and will attach easily with just a little push. You can even use it to adhere clay to multimedia projects and porous surfaces.
Expand your crafting possibilities and discover your potential when you put Sculpey® Bake & Bond to use. Try it today!