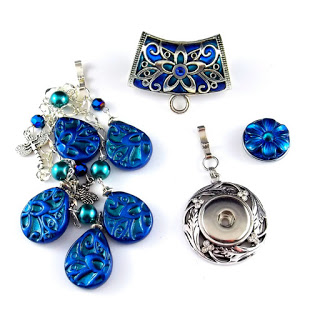 SNAP Jewelry Accessories
You may have noticed that we have sold out of our entire line of the SNAP Jewelry products!
This line of interchangeable components is a very fluid product line with new designs available all the time.
Because we carry so many different product lines, we just didn't feel like we were doing this line justice.
However, Carolyn Good of 2 Good Claymates has been so creative with using the Snap components we decided that our customers would be better served if we sent you her way.
She refers to them as her Snap Decisions Collection and has so may ideas for using them on her website.
You may also have noticed that I have referred to 2 Good Claymates in the past.
That's because when I first started out in polymer clay, Carolyn had a great online presence.
I remember her as being one of the first bloggers I found to be so generous with her free tutorials and polymer clay tips.
I was a newbie, and her blog was a friendly place to learn.
I started following her blog and then she followed mine back.
Back then I only had my blog, The Art of My Clay, and the original owner of Shades of Clay was carrying my line of CaBezels and Texture stamps for me.
Lots has changed since then.
Carolyn and I email each other occasionally and we have spoken on the phone a few times to share an idea or solve a problem.
Despite the fact that Carolyn and I have never met in person, I consider her to be a friend.
Hopefully one day when I find myself  back in British Columbia (visiting my sister) we will have the pleasure of finally meeting face to face.
Until then, I will continue to keep an eye on her blog to see what she's up to.
Please visit her blog and look around.
You will find several free tutorials and I know she'll inspire you.
You can also find a link to her reasonably priced tutorials there but here is a quick link for you if you are interested.
Tutorials
If you want to try using the  SNAP jewelry components  please visit her store.
It's always so wonderful to support fellow artists.
Ok, enough for now.   I'd didn't intend to gush in this post.
(Full disclosure, these are NOT affiliate links.  I am  not receiving anything for gushing about Carolyn.
I'm just showing my appreciation for what she does so well.)