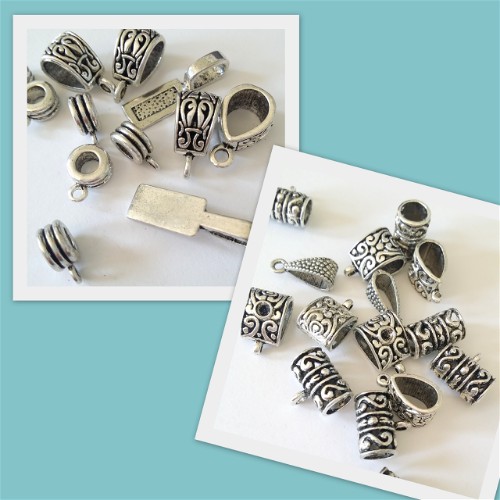 We're back from Bead Fest in Philadelphia PA (ok, so it's been a few weeks now).
We found some wonderful pewter bails amongst all of the beads, beads and more beads. I even found some huge ones to fit over our super-sized 12.7 mm Buna cord.
Patti had her preferences and I had mine so we combined her favs and mine into 2 different collections.  You can find them all here.
We can't get anymore, so once they're gone, they're gone.  The large ones are very limited quantities.
You can find all of the groovy new bails here.
The first 5 orders we receive will get a free beading magazine!
(You must order at least 2 different types of the new bails to qualify for the free mag.)
Polymer clay you ask? Not even a crumb to be found in the whole place, but as you know, polymer clay is so versatile that I will be able to combine it with my new metalsmithing skills.
I learned how to solder. From a tiny ring to a epic cage. I have been experimenting for the last few years with steel wire and cold connections (no soldering or heat needed) so learning more metalsmithing is a logical next step for me.
I've admired Susan Lenart Kazmer's  work for years, it's what enticed me take the 10 hour drive.
Until recently, I had no idea that Susan used sterling silver because it looked like steel to me.  Then I found out that she attains that look by pickling her sterling wire to blacken it .
Whaaaat? You heard right.
It's not my first choice to start with an expensive metal like sterling silver and have to be careful every step of the way and save all the little bits for later use.
My metal of choice is steel.
I prefer to take the mundane and turn it into something extraordinary.
Here is what I did in Susan's class. Be kind, I had to get over my fear of the torch. FIRE!
Going to Bead Fest was an exhilarating experience.  If you've never done anything like this before I urge you to start thinking about it.  Choose a friend or two and get packing.
Our 8 hour car ride flew by. You can't beat being around other like minded people willing to learn and share what they know.  We even bumped into a few ladies from Ottawa a few hours after we checked into our hotel.
It's a small, small world after all.  (Argggh, why did I say that, now I'm singing it).
You can find all of the groovy new bails here.

I thought I would list the teachers that Patti and I learned from.
They are worth taking a class with for sure. Take a look.
Jean Van Brederode
Susan Lenart Kazmer
Kieu Pham Gray
Steven James
Curious?  The website for Bead Fest 2019 is already up. You can take a look here.