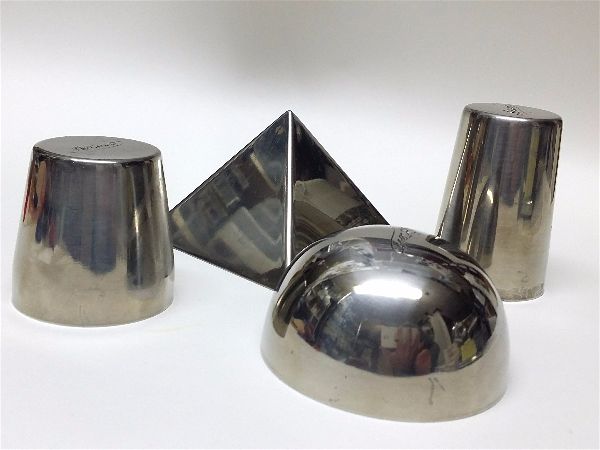 These stainless steels forms have endless possibilities for your Polymer Clay Designs
As you already know when you work with polymer clay, nothing from your surroundings is excluded from potentially becoming a part of the next project!
Polymer fiends have been spotted in public capturing impressions in clay from anythiing including a stucco wall or an interesting door knob!
Our eyes are continually scouring our surroundings for forms that can be used as structures to shape our clay
Finding forms that can then  be "baked" safely is  the challenge.
That's why when I saw these stainless steels forms I let out a squeal of delight.
I have only just begun to play with them and already I have had so many ideas.
The clay is so easy to remove from these forms.  No release is needed.
The Half Sphere
This form can be used to create concave or convex forms.
Since the old school light bulbs are next to impossible to find in some countries, this metal form can take their place.
You may have seen the heart shaped ring-dish tutorial  that I created earlier this year for Valentine's Day.
I simply used  cookie cutters to cut polymer hearts and then laid them both inside and outside of the form to bake them (making 2 at a time is a time saver.)
You can then add legs to take the wobble away from your dish or simply place a flat circle of clay on the bottom or even a few large O-rings.
If you missed it, you can watch the video here: A Love-ly Little Dish
Using different shaped cutters like squares or flowers changes the look of the dish completely.
This half sphere  can also be used to create lentil beads.
The metal forms can be found here.
The Pyramids
2 sizes of the Pyramid form are available: 2.25″ and 3.5″ bases.
Finally a pyramid form that we can cover with polymer clay and bake!
I roughed out a pyramid in no time by laying the form on it's side on sheeted clay.
I then traced around one side, and repeated the process a total of 3 times.
After easily cutting them out with my tissue blade, I placed all 3 triangular pieces on the form and gently rolled over the seams to blend them together.
Before baking, I used a tissue blade to cut horizontal lines near the top on all sides  (about 3/4″ from the peak.)
Once cooled the clay releases so easily from the form  (slide your tissue blade between the clay and the form, one side at a time and you should find the clay releases perfectly).
Turn the pyramid upside down and you now have a nice ring dish that doesn't wobble (because the peak was removed.)
To complete  the  bottom of your dish you can fill it in with a square of unbaked clay (and re-bake) or set the dish on the already baked peak and glue in place for an interesting looking bottom.
I used scrap clay for my pyramid (not a pretty sight) so once it cooled I applied Swellegant Prep, then the Brass Swellegant paint.  Once dry, I used the Gold-Green Verdigris patina to get the end result.  I then experimented with the scratching tool on the surface.
The peak of the pyramid could be used to make a bead or earring.
Dangle a small bead or wire out the opening or join 2  mini pyramids together to make lentil style earrings or a pendant.
I'm sure you will come up with lots of ideas on your own!
The Steel Cups (also referred to as Rum Baba molds)
These can be used for adding gentle curves to your clay shapes or for creating bezel cups (with either open or closed backs).
Closed Backs: for the first version cut a circle that is approx  1/4″ larger than the bottom of the cup,  center it and  apply the circle with the palm of your hand allowing the excess to form around the mold.
For the second style you will cut a circle that matches the bottom of the mold exactly, then apply a strip of clay around the base of the mold smoothing the edges together with the circle.
This creates a slightly more structured  bezel.
If you have the  fettuccine attachment for your pasta machine it cuts beautiful strips.
Once baked you can attach a bail.  I created my own with steel wire, then covered them with a piece of clay (and my signature) and re-baked.
Because I put bails on both edges, I can hang it sideways or hang something else from the bottom of it when I use it as a pendant or brooch.
Add some colour with Gilder's Paste or Viva Decor or Art-C Wax if desired.
The bezels can now be filled any way you like using clay or Resin.
For the open backed bezels use the extra strips of clay and  apply them around the remaining part of the cup form (leaving room between each one) .
These will then be your open backed bezels.
Use them for filling with ICE Resin by firmly applying packing tape to the back before filling.
The Tapered Tube
I haven't had much time to experiment with this shape although I have used both ends to cut circles.
I also tried covering the ends with slightly bigger circles (wrapping the clay around the edges of the form).
This resulted in some cute curved 1/2 sphere shapes  that could be used as a type of curved bezel.
They could be filled with liquid clay?
It could also be used as a mandrel for wire wrapping.
I hope these ideas have sparked some of your own.
We'd love to see what you create!
Here is the link to the page with the metal forms.
We also have other metal findings (pictured below) that you can add your personal touch to.
Great for gifts or craft show offerings.