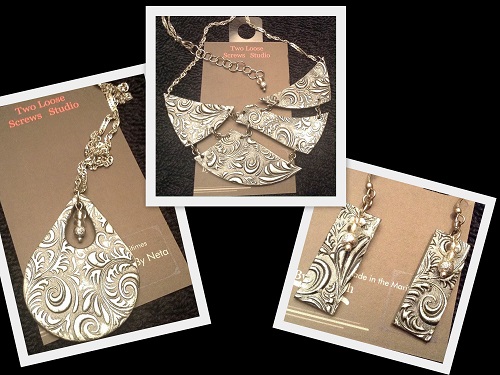 We all know that polymer clay is a great chameleon. It can take on the look of glass, ivory, wood and metal.
I'll admit, a lot of the jewelry I make has the look of metal. Much of the time, I find myself using scrap clay to create the base or bezel and then I'll add Gilder's Paste, Viva Decor Inka Gold or the metallic alcohol inks.
Recently,  Japheth McKinney (out in New Brunswick), sent us some pics of jewelry he created using the new Premo  colour, Graphite Pearl with Silver Gilder's Paste on top.  He knew it was a great effect when he saw it. I'm loving the look too.  I'll be trying it very soon.
I Googled his name and found out that him and his wife Neta are both heavy into the polymer clay jewelry scene. Two Loose Screws is their company name and they can be found on Facebook.
FYI, the texture he used is Feather Boa.