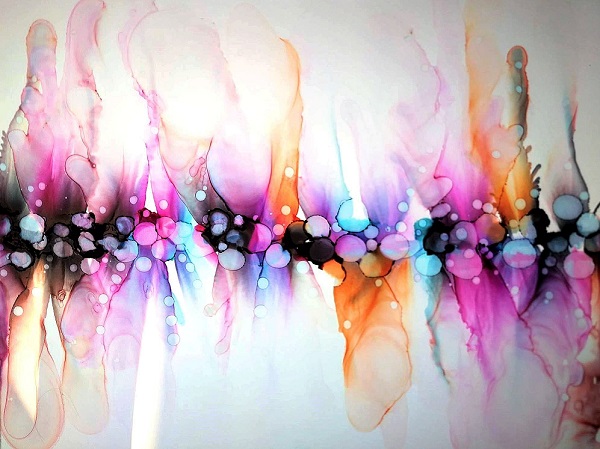 Sometimes our customers choose to share images of their creations with us.
Knowing that they took the time out to show us what they created using our products makes us cherish these moments.
June Corstorphine recently reached out to us with a few images of her paintings  created using  alcohol inks so we wanted to share them with you too.
The inks allow for exuberant, free flowing motion that you can't attain with other media.
Stress melts away and as the viewer you are welcomed in to explore the vibrancy of the palette.
You can find more of June's work here on her InstaGram.
The popularity of alcohol inks has grown exponentially in recent years.
When Shades of Clay started out in business over 15 years ago we sold almost entirely to the polymer clay community.
These days a huge number of our customers aren't coming to us for the clay at all. It's all about the inks for them.
Then there are those among us that like to try all of the exciting mediums out there.
Have you tried painting with alcohol inks yet?
We can make it easy for you to try.
You can find all of the alcohol inks, specialty papers and tools here.
(Unfortunately because they are flammable, we can't ship alcohol inks outside of Canada.)
In the meantime, we hope that June's paintings will inspire you.