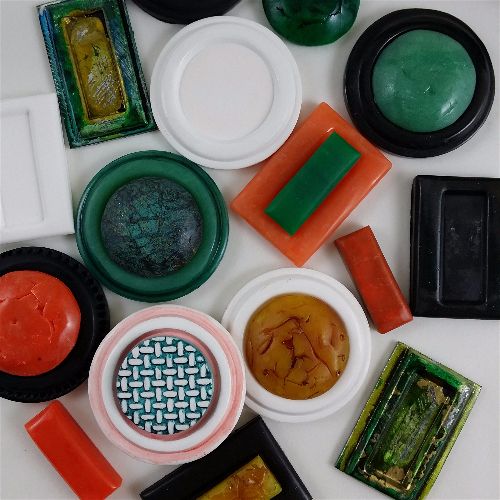 Have you been curious about CaBezel molds and wondering how to use them?
Until recently, all of the videos on the CaBezels were a wee bit old (but still helpful.)
My assistant Patti was recently willing to delve into the world of video editing (thank you Patti!), so with her help, I have finally uploaded a new video showing the basics to get you started with the CaBezel molds.
In it, I share some tips and tricks that I have learned along the way.
I hope to start creating several new shorter videos showing what can be created using the CaBezel molds.
If you are looking for some instruction and help using your CaBezel molds you can go here.
You might want to grab a cuppa' though. as I said, we are still working on shortening them!
While you're at it you may want to take a look at some of the images in the gallery.
I created the CaBezel molds back in 2008! (Almost 10 years ago! how time flies).
I remember driving home with my friend Bev after attending our polymer clay guild meeting; I was fairly new to Polymer Clay at the time.
I had previously been involved with creating Art Dolls, I started with fabric faces but I never liked seeing a seam down the center of the face, so after trying my hand at Paperclay, I eventually evolved to using polymer clay and I'm so glad that I did!
Once I discovered all of polymer clay's possibilities, I dreamily drifted back to my love of creating jewelry.
I digress, back to my story.
The guild workshop that Sunday afternoon was on creating a kaleidoscope type cane.  It was my first cane, so I was in awe of the entire process.  I remember asking myself, after investing so much time creating an original cane, why would anyone want to purchase a factory made metal bezel to surround such a masterpiece?
It seemed a little ironic to me.
That's when the idea struck me!  Luckily Bev was driving as I was so excited. She became my sounding board.
Bev was producing texture stamps from photo polymer at that time, so she had access to everything that I needed to make my idea a reality.  If it wasn't for Bev and her connections, the CaBezel Jewelry Molds would probably never have been created.
I am proud of the CaBezel Jewelry Molds and knowing that they have been shipped to several countries around the world thrills me.
I still enjoy seeing what everyone creates with them.
I love the fact that they are a tool that can be used by anyone and be customized to reflect their own style.
The Original CaBezel molds are still available as are the All-in-One Cabezel molds.
Watch for my newest concept to be launched very soon! (The Donut CaBezels)
With all new shapes of course and this time each shape will come in 3 sizes, small medium and large (or perhaps earrings, brooch and pendant.)